Their are some rules which never be changed in ours life...!!
1
x

0
x

1
Ronald Sherpa
posted 7 years ago by Ronald Sherpa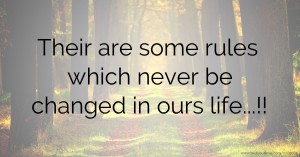 Pin it
Previous text message: "What does it take to get your attention. I love you. How can one heart be so in love that even though you can't see it with your eyes, but with your heart."
Next text message: Love is a cool, spiritual feeling that romances the soul of millions that. Results in physical love that gives us sexual pleasures and desires!"