The first time I saw you, my heart recognized you. It got warmed by your flame and now it's so hot waiting for a cool message from you. I love you so much.
151
x

34
x

185
Johnson chris
posted 5 years ago by Johnson chris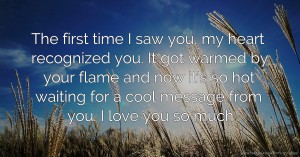 Pin it
Previous text message: "My heart is mine but it beats for you"
Next text message: I love him more than anything in this world he is my life I wake you every morning for him and sleep every night"