After thousands of years, the second factor that can melt ice instantly apart from heat are your smiles. I miss you.
23
x

12
x

35
Sabbath pro joe...
posted 5 years ago by Sabbath pro joe'nass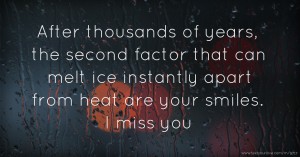 Pin it
Previous text message: "Here and now, let love express on my behalf what I feel for you. I love you more than love itself can offer. You're my angel."
Next text message: Love is the pain you feel in the absence of your partner and not the joy you feel in his presence"