As the sun recognizes the present of the moon, so do I recognize the present of your beauty when you are around me.
120
x

26
x

146
father joe
posted 5 years ago by father joe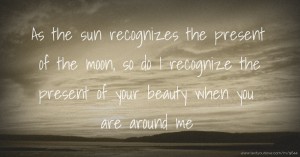 Pin it
Previous text message: "You look like a cool glass of refreshing water, and I am the thirstiest man in the world."
Next text message: When things go wrong, When sadness fills your heart, When tears flow in your eyes, always remember 3 things: I'm With You, Still with You, Always with You!"