My love for you has taken root deep down in the soft fertile soil of my soil, so I have come with fresh leaves of love.
106
x

25
x

131
newheart
posted 5 years ago by newheart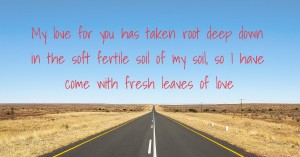 Pin it
Previous text message: "You are near. Even if I don't see you, you are with me even if you are far away, You are in my heart, In my thoughts, In my life, Always."
Next text message: Babe my thoughts are all about you... My love for you grows every single second that you come across my mind."