If you go to sleep thinking about someone and also wake up thinking about that person... Then he/she is either the cause of great pain or the cause of great happiness.
107
x

20
x

127
ali-boo
posted 8 years ago by ali-boo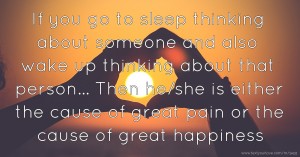 Pin it
Previous text message: "I will love you F.O.R.E.V.E but no R because that would be the end of forever."
Next text message: Your are my golden bus on a silver road carrying chocolate passengers. I love you"