You're the best person I have ever met, I re-fall in love with you every time I see you, every time, I get a text from you, and every time I talk to you.
2
x

1
x

3
colorf_unicorns
posted 6 years ago by colorf_unicorns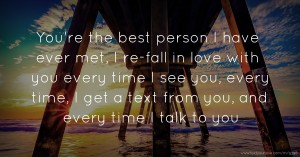 Pin it
Previous text message: "I love the way you smile, I love the way you make me happy. You are superb, I love you forever, baby."
Next text message: I don't want anything from you ... only one thing that is love ..I want to be loved that's all :)"