I always take every opportunity as if it's my last chance...So that's why I find it difficult to let go of you.because my love for you is unspeakable..
106
x

19
x

125
darkhomiez
posted 9 years ago by darkhomiez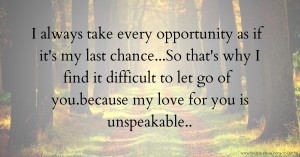 Pin it
Previous text message: "Babe I just want to prove it to you that this life is a contest, and you happen to be my prize. Because you are worth more than life."
Next text message: Love changes, but not the love you give. And if you love you will never be alone."