Your love makes my days so bright, just knowing you're an extension of me. Thank You because you've made me a better person by loving me for who I am.
202
x

36
x

238
Harris
posted 5 years ago by Harris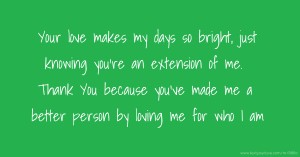 Pin it
Previous text message: "They say a picture tells 1,000 words but when I see yours all I see is 3 I...love...you"
Next text message: I'm never bored with you. You know how to annoy me and also put a smile on my face. Nothing in this world could ever be as wonderful as the love you've given me"