You're amazing. I take it for granted, but I love you and would spend forever with you in a heartbeat because of everything you do for me.
8
x

2
x

10
TheColorCute
posted 9 years ago by TheColorCute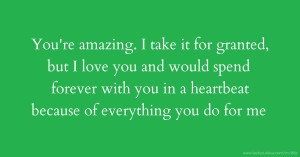 Pin it
Previous text message: "You're fat and ugly! But! But! Your heart is BEAUTIFUL"
Next text message: If you are not for me then why does my heart tells me you are the one,why does my heart beats anytime i talk to you,i love you so much..."