Its just a matter of time...we shall be together. even in your absence I still feel presence of love with us forever.
77
x

20
x

97
Dsounds
posted 8 years ago by Dsounds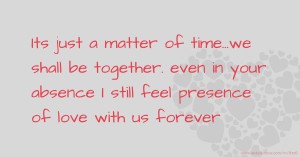 Pin it
Previous text message: "Twin, I was born to love you and thats why I loved you since I was born and promise to love you"
Next text message: MISSIN U Z MY HABIT,THINKIN OF U Z MY EDUCATION,2 C U Z ALWYZ MY WISH,2 LUV 4EVA Z MY VISSION,2 MKE U MY LUV Z MY MISSION,BT NT 2HURT U Z MY PRAYER,LUV U B@B¥"