Diamonds are transparent golds are metalic ruby glowing...all this put together is the light of love I see when I look into your eyes.
9
x

5
x

14
Dsounds
posted 8 years ago by Dsounds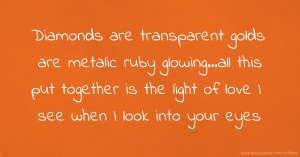 Pin it
Previous text message: "You opened up your heart to me at first sight, making me realize sweet feelings through my blood streams...I love you."
Next text message: Some people die younger because god loves them too much, but I'm still on earth because someone loves me more than god."