Love is like a butterfly, if you hold it too tight you will kit it. If you hold it too lightly you will lose it, so take it easy.
26
x

13
x

39
Djong-yang
posted 5 years ago by Djong-yang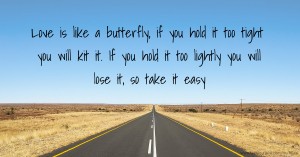 Pin it
Previous text message: "I wnt you 2 count all de stars nd you wil c hw much I lv you gal 4rm letsopa"
Next text message: Your my princess and still gotta be my queen, N yeah we been stress but baby you that were a team. Its you & me, and me & you we'll see it through..<3"