When night comes, look at the sky. If you see a falling star, dont wonder why, just make a wish. Trust me, it will come true, because I did it and I found you!
257
x

44
x

301
Normanhassan
posted 8 years ago by Normanhassan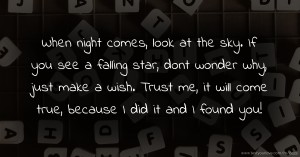 Pin it
Previous text message: "Rivers can dry, Mountains can Fly, You will forget me But Never Can I"
Next text message: Each moment I think of you, my love grows higher. I don't know what will be in our destination. The sky is the limit."