Kick off your shoes,take a break.Crank the tunes,Dance & shake,light the candles,cut the cake make it a day that's simply Great!!! Happy 20th Birthday "Connie"
22
x

5
x

27
Evoh ngomane
posted 5 years ago by Evoh ngomane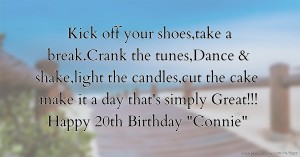 Pin it
Previous text message: "It takes 2 to tango. 2 to kiss. 2 to talk & reminisce. So many good things come in 2s & one of them is me & you"
Next text message: I have lots of jokes in my inbox, But I can't send you all of them, It will take a lot of time, So I'm sending you just 1 joke . You are so beautiful""