Love is but a feeling to those who never experienced it in it's truest form. True Love takes over your thoughts, heart, and your Life...True Love never ends.
55
x

11
x

66
Jus
posted 6 years ago by Jus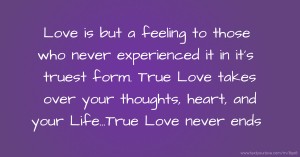 Pin it
Previous text message: "The very moment I laid my eyes on you, I fell so deeply in love with you. I knew then that I wanted to spent the rest of my life with Heaven's Best...You"
Next text message: I LOVE YOU TOO MUCH THAT IT FEELS LIKE YOUR ACTULLY ALL MINE 🔒💕😍 I LOVE YOU MY BOO BOO"