I prayed for a red bike, god gave me blue, I lost my old cap, he gave me new, I wanted a friend who will always be true, I prayed and prayed until I had you.
9
x

3
x

12
cooliohot!!!
posted 6 years ago by cooliohot!!!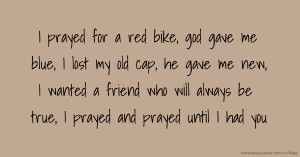 Pin it
Previous text message: "Never give the passwords of our love to anybody because they will hack you from me,the passwords are I LoVe YoU"
Next text message: Your smile makes me smile, your laugh makes me laugh, and when you smile or say hi to me, my heart lights up and I feel happy. I LOVE YOU"