It may not have been love at first sight, it may not have been a tragic love story, but what it was, was a fairy tail and you're my prince charming!
23
x

5
x

28
Fairy Tail
posted 5 years ago by Fairy Tail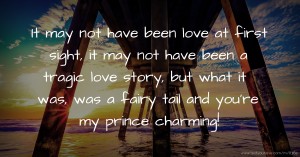 Pin it
Previous text message: "Silver light shine so bright. Your my day and my night. Your my end your my beginning, my love for you is never ending. I love you honey :*"
Next text message: Love is not about money, love is not about clothes, cars or bling. It's about what your heart feels and desires."