The world is a small place to live, so utilize any opportunity you have... and don't forget given is divine, please forgive me. Love you.
6
x

1
x

7
blinks jeff sms
posted 5 years ago by blinks jeff sms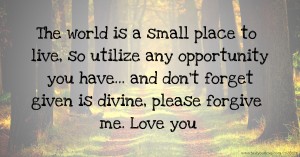 Pin it
Previous text message: "You sing out of tune and dance out of beat; but because its only for me, its the best performance anyone can see :)"
Next text message: Problems are like washing machine. They twist, they spin and knock us around,but at the end we come out cleaner, brighter and better than before. 266FD6DE"