Poor is not becuase you do not have material riches....as it could be that you do not believe in you creator.
4
x

4
x

8
MAURICIO ARROYO
posted 6 years ago by MAURICIO ARROYO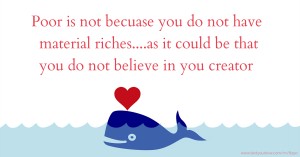 Pin it
Previous text message: "Family is the greatest creation of all.....no matter the issue or the situation that arises.....love will always take control."
Next text message: Baby, you're my world. I love you now and forever . I just wanted to remind you how much I love you."