I regret the day I feel in love with you, I can't just get out of your love net, I keep loving you everyday, Ooh I so love the day we meet. I care about you.
9
x

7
x

16
leochard
posted 6 years ago by leochard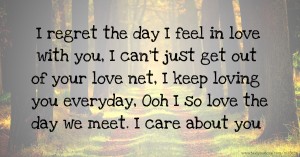 Pin it
Previous text message: "I remember our first kiss, it was like seeing heaven on earth, I felt I was in the new world of love, thanks for being part of my life. I love you"
Next text message: Love is like a cough, it can't be hidden."