My love for you is unconditional, my heart beats uncontrollable for your love, I think am dying for your love. I love you.
3
x

1
x

4
leochard
posted 6 years ago by leochard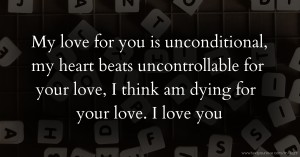 Pin it
Previous text message: "An angel came to meet me and he said where is your heart I told him you stole them away then he said that is the best place my heart can stay. I love you"
Next text message: I remember our first kiss, it was like seeing heaven on earth, I felt I was in the new world of love, thanks for being part of my life. I love you"