baby true love is like a needle it gets throudh toughness but it never breaks.
3
x

1
x

4
siyanda madide
posted 8 years ago by siyanda madide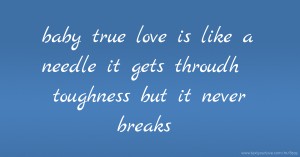 Pin it
Previous text message: "If I you were asked to make one wish today what would it be? mine would be that our love lasts until I see an orange in an apple tree.I love you"
Next text message: You are one of the most unique girls in this galaxy that I have ever come across and have my hands on. You are one of best findings in my whole life!"