Darkness, Rain, Fire or whatever, it can do no harm to me, but your silence would kill me.. Will you be my best half?
30
x

15
x

45
love
posted 8 years ago by love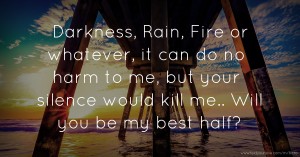 Pin it
Previous text message: "You are my everything: My light when it's dark, My smile when I'm sad, The happiness in my heart. I love you so much and I never want to lose you. Be mine forever?"
Next text message: I see 1000 boys, I know 100 boys, I talk to 10 boys, I love 1 boy and It's you..."