queen victoria.. eachday my heart beats for you,& each memory of you makes my smiles brigther, no one else could make me feel so exotic the way you do.
8
x

4
x

12
oluwasegun. o
posted 8 years ago by oluwasegun. o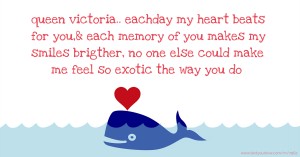 Pin it
Previous text message: "The best day of my life is the day I met you. The best moments of my life are the moments I spent with you. My love for you grows stronger day by day"
Next text message: Roses are red. Violates are blue. Damn. Let me kiss you."