Knwing you are meet for me 4 ever,give me joy and happynees in my heart.
5
x

2
x

7
sunday
posted 7 years ago by sunday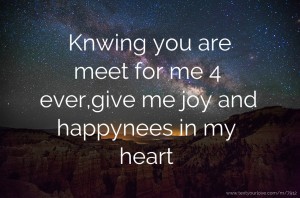 Pin it
Previous text message: "Roses are red, Violets are blue, Everything I do makes me think of you. You are the sweetest, And the best too, Baby I can promise I'm never leaving you."
Next text message: Please dont give up, ON US. Give it time, I will get over this angry...you wait and c baby :-)... I will make you happy and that I. xXx PROMISE xXx"