Last night I matched each star with a reason for loving you. I was doing great until I ran out of stars.
63
x

15
x

78
star
posted 10 years ago by star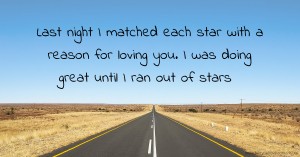 Pin it
Previous text message: "Tiny stars shining bright. Time for me to say good night... Close my eyes & snuggle tight. Wishing you sweet dreams tonight..."
Next text message: My heart for you will never break. My smile for you will never fade. My love for you will never end. I hope you feel the same"