I never fall for guys with good looks, I look for the beauty that's inside you. I'll give my all, even though I don't say it. Baby, I love you.
2
x

0
x

2
Icey McMillian
posted 8 years ago by Icey McMillian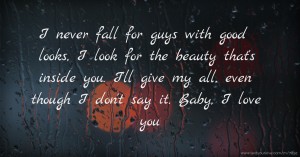 Pin it
Previous text message: "I love you so much that even the water in the whole world seem only a percent to me"
Next text message: Love is Love. If its wrong for me to love you. I don't care, you're you. Beautiful, Intelligent, Wonderful, and Mines to keep. IG: Clyde__"