Love is not the action of sitting together, going out together and chatting together... It's the feeling of two hearts living together. I love you my sweet heart.
188
x

31
x

219
dinakaran m
posted 9 years ago by dinakaran m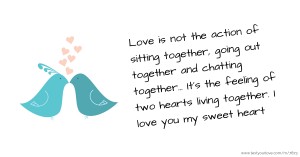 Pin it
Previous text message: "You know your in love when you cant fall asleep because reality is finally better than your dreams."
Next text message: I think god has given a boon of born to love a pure heart like you... what I'm trying to say love you my love!!"