If love is a drop of water, then you are the ocean.If love was a grain of sand, then you are the beach.If love is a piece of my heart, you have the whole thing.
14
x

2
x

16
Destiny William
posted 9 years ago by Destiny William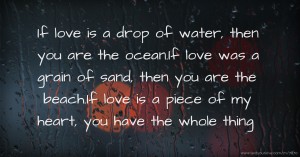 Pin it
Previous text message: "Whats love without a trust from each other???"
Next text message: You know your in love when you cant fall asleep because reality is finally better than your dreams."