When I say "I love you", I'm trying to say so much more. but love is the strongest word in the dictionary so I settle and use it. But sometimes it isn't enough.
0
x

0
x

0
DeathTheCupid
posted 8 years ago by DeathTheCupid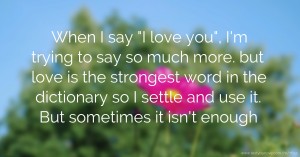 Pin it
Previous text message: "I will love you to infinity and beyond and just remember your always right here in my heart"
Next text message: Will there be my better day when will this scar will fade away I saw your smile from miles away I swear you never fade away"