Protect her like a daughter, love her like a wife, and respect her like your mother....
111
x

23
x

134
AndileKhuba
posted 6 years ago by AndileKhuba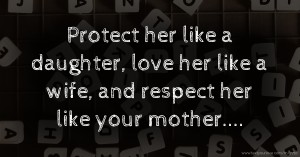 Pin it
Previous text message: "There is no substitute for you. You are my only love and all I ever need. I wish I was a god, I would take everything away that you don't like."
Next text message: I love the way you remove my hair from my face..I love the way you hold my face and kiss me on my cheeks.. I bet I never ever felt that great bfore"