Love is worth fighting for because I'm fighting for you. Love is worth waiting for because I'm waiting for you.
23
x

5
x

28
heyitsmel215
posted 8 years ago by heyitsmel215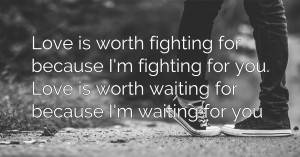 Pin it
Previous text message: "No, I dont like you at all, I love you more than any thing."
Next text message: Distance can't change how I feel about you. It only makes me feel like we´re forever! And trust me I know that our love will last forever and always!"