My life without you is like a beautiful vase waiting to be filled with a flower called you... I love you.
75
x

16
x

91
Beekay Laurence
posted 6 years ago by Beekay Laurence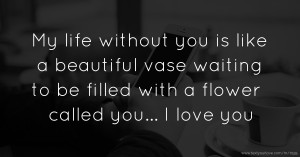 Pin it
Previous text message: "Love is sweet and soft but not always kind. Throughout the day I think of you and it hurts because I know you will never feel the same way about me."
Next text message: No measurement of time will be long enough with youu, so lets just start with forever. I love youu too the stars and back my boo!!"