Its not that I Love you because you are beautiful but you are beautiful because I love you
8
x

6
x

14
...chris...
posted 6 years ago by ...chris...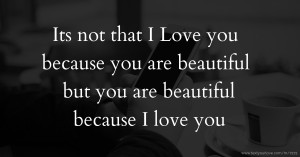 Pin it
Previous text message: "I thought i would never love again. I have tried to love over and over again. But when you came into my life, i knew i was never gonna be alone again 3"
Next text message: If I could jump up and touch a star for every time you made me smile I would hve the whole nyt sky in the palm of my hands"