If I'm forced to choose between loving you and breathing I would use my last breath to say I love you!
136
x

32
x

168
danielchibulke
posted 7 years ago by danielchibulke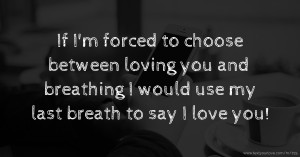 Pin it
Previous text message: "I'll taste the devil's tears Drink from his soul But I'll never give up you..."
Next text message: You know that I love my boyfriend and I can't imagine my life or future without him. He's the one who has reached the depth of my heart and soul. You're the one who holds the key"