I may annoy you, and you might want to kill me... I give you permission, but on one condition. Don't shoot me in the heart, because that's where you are!
285
x

85
x

370
Logie
posted 6 years ago by Logie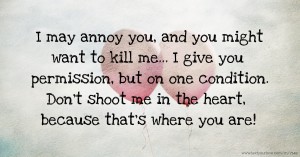 Pin it
Previous text message: "Babe every time I don't text u am still smiling bc what am doing is thinking of you 😍😍😍😍"
Next text message: love is nt a 4 letter word jst to say i love u. Its a feel of showing a caring, affection, n everything on a one person without any drama n a wrong intention."