I lay in bed at night thinking of your smile and the way you make me laugh, it helps me remember why I fell in love!
444
x

63
x

507
LoveBug
posted 7 years ago by LoveBug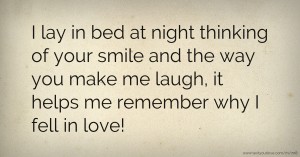 Pin it
Previous text message: "Girl: baby i'm pregnant boy: wow we going to have child love Girl: yes baby but is not you kicky your dog Boy: died"
Next text message: Friendship is the heaviest coin in the international bank of love & with yur friendship, l'm the richest person on earth! So keep me rich forever"