Tonight I'm going to sleep early, because I want to see you in my dreams as soon as possible. Good night.
15
x

3
x

18
khazu
posted 9 years ago by khazu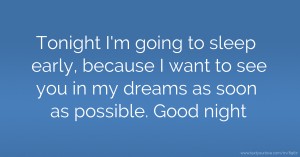 Pin it
Previous text message: ""Value of relation" is not that how much you feel happy with some one . . But it is that how much some one feels ALONE without you!"
Next text message: There are a thousand things in between us.. Low battery, busy network, no coverage, no time, work. But still, when my mobile beeps, I think of you."