My love for you is like the gravitational pull between the sun and earth, the closer it is the stronger it gets.
119
x

27
x

146
Lewis Harding
posted 8 years ago by Lewis Harding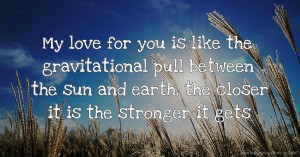 Pin it
Previous text message: "BITTERNESS doesn't mean your heart is falling in love again, it's just being wise and careful so that your heart won't break again."
Next text message: I aways think of u, but i aways fail to kno the reason way! U ar always in heart and i will never forget u still i die."