Loving you is easy, missing you is hard, wishing you where with me bound by a strong cord, all the time thinking of you when we were apart. I want to be with you forever.
53
x

16
x

69
NWA JESUS
posted 8 years ago by NWA JESUS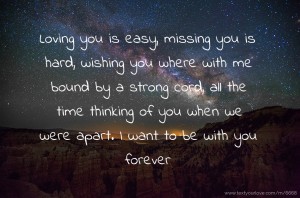 Pin it
Previous text message: "Nobody is right till somebody is wrong, nobody is weak till somebody is strong, nobody is lonely till somebody is gone. I miss u"
Next text message: To say that u are better than them would be an understatement, u're incomparable"