Never kiss a police officer, she will say, hands up. Never kiss a doctor, she will say, next please. Always kiss a teacher, she will say, repeat it five times.
490
x

183
x

673
NWA JESUS
posted 9 years ago by NWA JESUS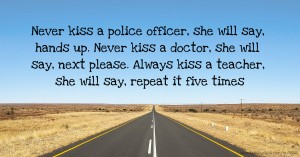 Pin it
Previous text message: "i love you like i love no other, the way you say my name send my heart into attack, the way you look at me makes my kness ache, all i can say is i love you"
Next text message: Nobody is right till somebody is wrong, nobody is weak till somebody is strong, nobody is lonely till somebody is gone. I miss u"