Babe you are the last person I think of before I sleep, you are also the first person I think of when I wake up and I dream about you all the night...
75
x

15
x

90
rio roi
posted 9 years ago by rio roi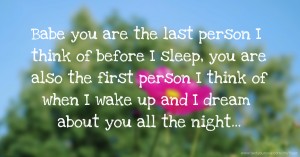 Pin it
Previous text message: "You are never alone,you shall never be cos I'm always there for you.I'll always be right there in your heart and to love you constanly. Love u much more."
Next text message: Love some... Not because they give you what you need, but because they give you feelings you never thought you needed."