Love is something, that no one can hate love is passion, we find in our mate, love can happen anytime, early or late...
13
x

7
x

20
Abdulrahman
posted 6 years ago by Abdulrahman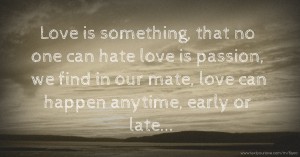 Pin it
Previous text message: "There would come a day when u wil ask me what I love d most; u or my life? And I will say my life then u will leave me without realizing that u are my life."
Next text message: Baby if every girls were like you, you know what would happen to the world? Gf: no Bf: the word "ugly" wouldn't exist at all"