You Mean The World To Me, My Heart Is Locked And You Have The Key. Just Thinking Of You Makes Me Smile, My Love For You Goes On For Miles.
58
x

21
x

79
sam_i_am
posted 10 years ago by sam_i_am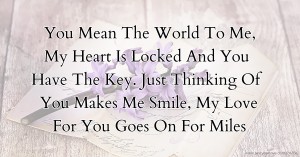 Pin it
Previous text message: "Don't love 1. Don't love 2. But love the 1 that loves you too!"
Next text message: You're Adorable In Everyway, I'd Love To See You Day by Day. I Write This And I Think Of You, You Are My One And Only Boo."