Love is like a glass, if you break it, it can never be repaired, and if you repair it, it won't be the same. So handle it with care.
371
x

110
x

481
nellaBee
posted 9 years ago by nellaBee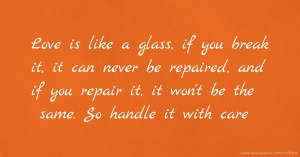 Pin it
Previous text message: "Three little words don't seem like enough for someone who makes me smile every day. I love you."
Next text message: Sometimes I laugh remembering the day I cried, sometimes I cry remembering the day I laughed... miss you a lot."