Life has knocked me down a few times, it showed me things I never wanted to see. I experienced sadness and failure but one thing is for sure: I always get up.
83
x

22
x

105
chelsey
posted 6 years ago by chelsey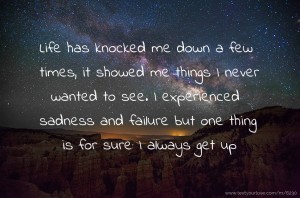 Pin it
Previous text message: "if love was a sin, I could be the first person on earth to be a sinner because I truly love you."
Next text message: You taught me how to love... What I didn't know is that you also taught me how to cry."