The day you take your last breath will be the day I take mine also. I'm not gonna live without you. I love you.
15
x

3
x

18
Kendra
posted 8 years ago by Kendra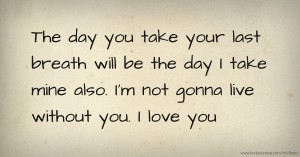 Pin it
Previous text message: "We might be separated by distance but never ever by heart, the distance means nothing when you mean everything!"
Next text message: Roses are red, violets are blue, my heart was cold until I met you."