Seasons are changing, Waves are crashing, Days grow longer and nights grow longer. and Hey? You are still standing. Things are rough. Can I stand with you?
7
x

3
x

10
_SnowyFox_
posted 7 years ago by _SnowyFox_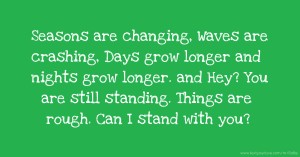 Pin it
Previous text message: "Like the tree needs the earth, Like the night needs the moon, Like the star needs the sky, Like the guitar needs the tune, My world needs You..."
Next text message: If fear didn't exist, I'd run up to you, kiss you, and tell you that I love you..."