when i smell perfume nd its difference in gender . It makes me wish and belive you are smewhr close.
6
x

5
x

11
Skrywer C
posted 7 years ago by Skrywer C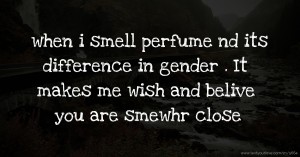 Pin it
Previous text message: "I love you so much, my heart is so sure, as time goes by I love you more. I miss you my baby Tony. I love you forever and ever."
Next text message: If you think missing me is hard, you should try missing you. :/"